Handlebars

05/01 2014 by Pieter Van Pietersen




Handlebars are important as you spend most of your time holding them when riding. The wrong bars can mean your brakes and gears are out of reach, and can contribute to back and neck pain.

Narrow bars are becoming more popular as they offer aerodynamic advantages.

Should we choose aluminium or carbon bars?


Handlebar Width
The width of the bar is measured from the bar center where the brakes are clamped, rather than at the ends. Widths range from 38cm to 46cm.

Traditionally, the handlebar width would be matched to the shoulder width. The measurement is taken from the left and right acromion process, which can be found as a bony lump where your arm meets your shoulder.



Wider bars give more leverage when sprinting and open up the chest more, but can cause the neck and back to be pinched, which leads to tightness and fatigue.

A narrower bar can solve the back tightness, and is more aerodynamic, as the frontal area of the rider is reduced. They also allow you to more easily fit through gaps in the peloton and traffic.

Andre Greipel and Adam Hansen from the Lotto Belisol team have been using 38cm bars to aid aerodynamics. At 45kph a bike and rider with a 44cm bar pulls around 320W. Compare this to 310W for a 42cm bar and 292W for a bar with an aerodymamic top part (Zipp sl-70 aero, temperature 30C, speed 45kph).

Changing from a standard 44cm bar to a 42cm aero road bar would save you around 25-30W, which is a massive difference.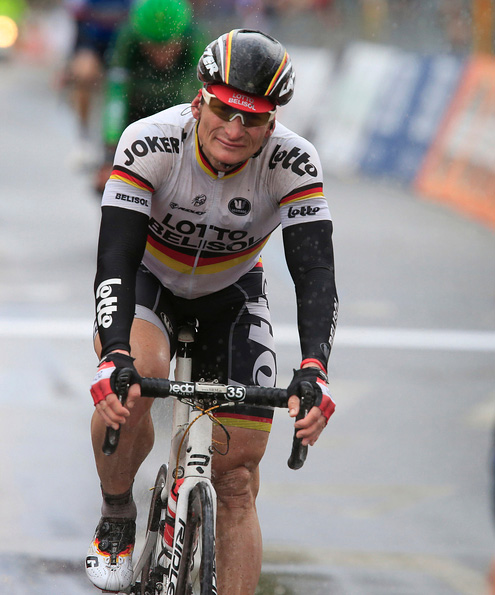 I tried 38cm bars. The stem does not need to be lengthened when you change handlebars. For every 2cm narrower width, less than 1mm needs to be added to the stem length.

I had no noticeable fatigue or handling issues when switching to a narrower bar.

I was able to produce exactly the same sprint power output on 38cm and 44cm bars. As a result, I shall continue to use the narrow bars.

Handlebar drop and reach
To look like a pro, many riders are removing any spacers between stem and headset to create a 'slammed stem' look. Pro riders take this even further by riding frames that are a size smaller than you'd expect (e.g. Bradley Wiggins 1.9m, 6ft3 on a 56cm frame, or Tom Boonen with a custom S-Works SL4 frame).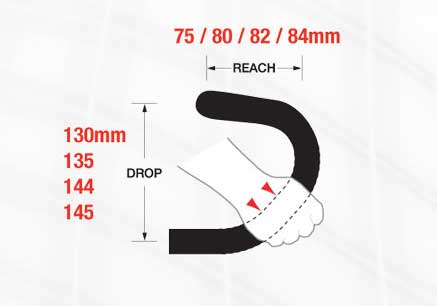 The result is that the drops rarely get used as the rider is not flexible enough to get into them. The solution was to create handlebars that had a shallower drop, called the compact bar.

A typical compact bar will drop around 125mm compared to a standard deep drop bar which will drop around 150mm.

The reach of the bar is also important, as this can vary by a few centimetres. Compact bars tend to have around 80mm reach whereas standard bars will have around 100mm reach. Of course, more reach means that your brakes will be further away from you, so you will need to adjust stem length when changing bars.

Bend
The bend is important so that you can get your brake levers into the preferred position. Modern bars will tend to bend sharply at the top of the bar, so the top of the bar and the brake hood can be mounted in-line. This gives a solid platform for several hand positions.

If the bend is wrong, then your brake/gear levers will be too far from the bottom of the bar, which will make reaching them from the drops difficult.

The lower part of the bar is supposed to be just off horizontal - around 5-15 degrees. Some riders like to have their bars angled upwards.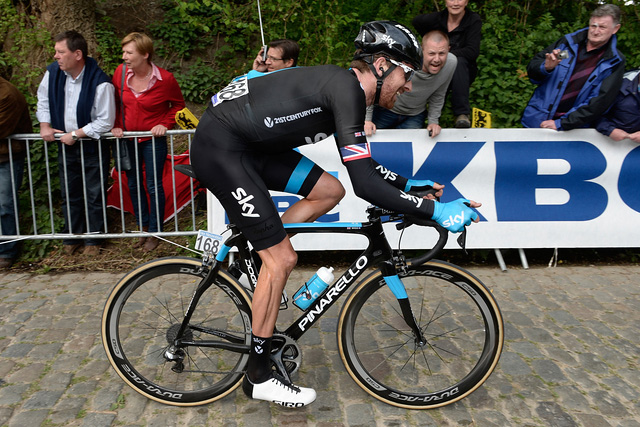 Whatever is comfortable for you seems to be the order of the day.

Same applies for so called ergonomic bars, which have contoured sections to grip on. They make no difference.

Damping
The properties of carbon make it much better at damping than aluminium, which leads to a more comfortable ride. This could be the main reason to use carbon bars. This is probably outweighed by the disadvantages, however (see below).

Handlebar Stiffness
There is some debate about stiffness as the energy lost in bending the bar is returned as it unloads. However, when out of the saddle, you pull up on one arm and the other arm is loose. Any returned energy from the bar just wobbles your loose arm, so is lost.

A stiffer bar is therefore more efficient, and can really make your bike feel more responsive.

Ideally, you would want a bar that is stiff but still absorbs road vibration, which is what carbon bars purport to do.

Unfortunately I do not have any up-to-date bar stiffness tests, but I will update as soon as data are available.

Weight
Light bars come in around 150g, such as the AX Lightness AX400 bar at EURO 619 ($860), to around 265g, such as the Pro PLT Aluminium at around $60.

Pro teams are not so concerned with weight as they are limited to 6.8kg per UCI rules. However amateurs can create a very light bike which will save you time on the climbs.

Crash Damage
Aluminium bars can fail catastrophically, but are more robust after crashes. Generally, aluminium bars will be fine after a crash, whereas carbon bars should be replaced, or at least carefully checked by a dealer. If you can't afford to replace it you shouldn't be riding it.

Price
Decent handlebars range from around $50 to over $800. Generally, an aluminium bar will cost around $50-$100 and a carbon bar will be $200 and upwards.

Diameter at the clamp
Bars come in 31.8mm or 26.0mm sizes. There is no particular reason why the industry moved to a larger diameter. A larger diameter tube can use less material, resulting in a lighter handlebar, but since the bars need to deal with a clamping force, the thickness had to remain the same. Bars have therefore remained the same weight as before.

I prefer the 31.8mm bars as there's a wider grip on the tops. Not that wide bars become narrow at the drops - the width increase is not uniform.

Material
The choice is either carbon or a selection of aluminium alloys. The advantage of carbon is in its damping properties. However it is prone to breakage when crashed, expensive, flexible, easily to counterfeit, and not much lighter.

Since there isn't a great deal of weight to be saved around 50g, I would go with aluminium bars. Remember you will probably need to buy new carbon bars each time you crash.

Looks
Your bars will be mostly covered in bar tape, so looks are not really so important. Glossy bars tend to scratch easily around the stem where items such as lights, GPS, cameras have been mounted.

Of course, bar brand should match stem and seat post brand. Popular finishing kit combinations are made by 3T, FSA, Deda, Fi:zi'k, PRO and Ritchey.

Fakes
Do be careful when buying low priced carbon bars (and parts) off ebay/ second hand, as there are a lot of fakes out there. Visit the manufacturers' websites to figure how to identify a fake. Fakes may not even be cheap.

Fake bars tend to snap very easily. A snapped bar will result in a crash. Would you pay an extra $100 to avoid a crash?.

Integrated bars and stems
The problem with these is that there is no adjustment - you are stuck with a certain stem length and bar width. There are not even any weight gains to be won. For example, the WCS Carbon MonoCurve Integrated bar and stem weighs 353g. The Giant SLR Aero Bar/ stem comes in at 395g. A standard bar and stem would weigh around 200g + 125g, which is less. The MonoCurve costs $600, and the SLR EURO425 which is a lot more than you'd pay for separate items.

* Update June 2014: Bontrager has recently released a bar-stem combo (XXX integrated bar/ stem) that weighs 236g for 42cm width and 11cm stem. Cost USD $599. Canyon is now shipping its Aeroad CF SLX with an integrated bar/ stem. Weight not yet known.

It seems that these integrated systems have numerous disadvantages and no advantages.

Clamp tightening
Remember to tighten your clamp gradually and without too much torque. Work a little bit at a time on opposite bolts and keep moving around until they are of equal tightness. This will ensure an even clamping force.

Table of Handlebars

| Manufacturer | Model | Material | Size | Weight | stiffness | drop | reach | RRP | Web Price |
| --- | --- | --- | --- | --- | --- | --- | --- | --- | --- |
| AX Lightness | AX4000 | Carbon | 40cm | 150g | | 142mm | 95mm | EURO 619 | |
| Lightweight | Rennbugel | Carbon | 40cm | 166g | | 136mm | 79mm | $390 | |
| ENVE | Compact Road | Carbon | 42cm | 205g | | 127mm | 79mm | $350 | |
| Deda | Zero 100 | Aluminium | 42cm | 248g | | 130mm | 75mm | $125 | $90 |
| FSA | K-Force Compact | Carbon | 40cm | 210g | | 125mm | 80mm | $290 | |
| 3T | Ergonova Team | Carbon | 42cm | 198g | | 123mm | 77mm | $325 | |
| 3T | Ergonova Pro | Aluminium | 42cm | 265g | | 123mm | 77mm | $105 | |
| Ritchey | WCS Carbon EvoCurve | Carbon | 42cm | 220g | | 130mm | 80mm | $300 | |
| Ritchey | EvoCurve | Aluminium | 42cm | 253g | 128mm | 83mm | $130 | $110 | |
| PRO | Vibe | Carbon | 42cm | 200g | | depends | on model | $335 | $285 |
| PRO | Vibe 7S | Aluminium | 42cm | 260g | | depends | on model | $65 | |
| Fi:zi'k | Cyrano 00 (Chameleon) | Carbon | 42cm | 175g | | 130mm | 80mm | EURO 350 | |
| Bontrager | xXx Vr-C | Carbon | 42cm | 189g | | 125mm | 85mm | $350 | |
| Bontrager | xXx Integrated | Carbon | 42cm + 11cm | 236g | | 125mm | 92mm | $599 | |
| Zipp | Service Course SL-70 | Aluminium | 42cm | 250g | | 128mm | 70mm | $110 | |


Conclusion
Carbon fiber bars look good and match other parts of your bike which may also be made from carbon, but the extra expense is not worth it. Better to buy the more robust and only slightly heavier aluminium bars. Every time you crash, you'll be thankful you did.

Recent integrated bar and stem combinations (July 2014) appear to be light and stiff, although expensive. Could be worth considering for your dream build.

The bars I would most recommend are:

3T Ergonova Pro - this is the Aluminium version of the Ergonova bar. It is a compact bar. If you want a deeper bar then choose the Rotundo. It is only 265g, but stiff, reliable and good value. If you really want to go carbon then choose the Team bar.

Pro Vibe 7S - This is also aluminium. Again - good weight at 260g, good value at around $65, stiff and reliable. If you really want to get carbon then the PRO Vibe is a good choice, but five times the price to save 60g.

Ritchey - Again they make excellent bars, stems and seat posts. The bars have good ergonomics.

Exotic bars such as ENVE, Lightweight, AX lightness. Such bars are beautiful, but mostly serve as displays of wealth. They won't significantly improve your performance. Better to spend your money on a training camp or quality protein.
Links