Cycling Training Camp

01/23 2014 by Pieter Van Pietersen




Every year we read about pro rider training camps. They go off to a sunny location, practice sprint trains, team time trials, ride 5 hours a day, get a suitcase of new kit and it all sounds awesome.

Amateur riders will of course want emulate this. Before you go, think carefully about the reasons for going on the camp.




The first reason for going on a camp will be to spend a week doing something you love, in better weather conditions than back home and with your good buddies. After a long, dark winter, a week of cycling in Majorca wearing shorts and short sleeves is one of the best feelings ever.

The second reason will be for training. It is a chance to get in the miles, lose some weight and get really fit before the races start. Or is it?

In my experience, the goal of training to get fitter doesn't really work out. Here's why.

Group riding effect
Clearly with a group of 20 guys who have just arrived in the sunshine after being cooped up in garages on turbo trainers, each ride is going to turn into a race. It is unavoidable. The first few miles might start out steady, but as soon as the road turns upwards, a pecking order needs to be established. I'm sure this is something instinctive, so there's no point fighting it, just redline yourself up that climb and try to win the sprint at the top.

The rest of the week usually pans out as follows: rides of 4-5 hours a day are planned. Each climb is handled like a threshold test and the final 30 minutes back home is a flat out race.

With each passing day, the legs get more and more wrecked. Everyone turns into a zombie and by the time you get on the plane home you can only walk like an old man. Such a workload takes at least a couple of weeks to recover from, and by then you will have lost the fitness gains you made. I have even seen some people lose a season due to the fatigue brought on by one training camp.

Too much increase in training volume
For most riders coming off 5-10 hours a week, a sudden increase to 20 hours is too much. The 5 hour rides are ridden progressively slower and they merely exhaust themselves.

The solution is to accept that you won't be able to ride 5 hours a day, and just try to lift your weekly hours by no more than 50%. Incorporate a rest day or days in the week. Of course, it won't be possible to convince everyone to take an easy ride with you, so you may have to go alone or form a splinter group.

Riding too intensely
Consider the ride intensity. Perhaps you were doing 2 x 20min turbo sessions a few times a week. However suddenly you might spend an hour at threshold twice a day. That's a recipe for shredding your legs. Consider riding endurance rides at endurance pace all the way through your camp.

Getting sick on return
After a week of hard riding, your immune system may be weak. At this point you could well climb into a plane with 200 other people and that's a good way to pick up a cold.

To counteract this, try to avoid touching around your eyes, use hand gel, wash your hands and try not to get over-exhausted. Avoid riding on the day of the flight.

Gains from a week's training
How much fitter can you get in a week? A hard week followed by adequate rest can bump you to the next level. This is called crash training. For each day at camp, you'll need 0.5 - 1 days of rest afterwards. The body will supercompensate and you'll become fitter. This isn't without its risks, as you can easily become overtrained or sick using this method. Also crash training works best by increasing intensity rather than time.

Remember that other skills can be learned at a camp, it is a great way to bond with your teammates and a great way to catch up on sleep.

Timing of the camp
In an ideal world the camp would be 2-3 weeks of base miles in January as part of a build for racing season in March (Northern Hemisphere riders). However most people will only have up spare week, and good weather is not certain in Jan and Feb.

The training benefit of base miles in March for racing to begin in April is questionable. If you are about to start racing for the season then you should be working on race like efforts rather than 5 hours of endurance.

Consider using the camp time to practice racing rather than smashing out as many miles as possible.

For example, try splitting the group into two teams and run a series of 2-3 mile / 3-5km races. That's a good way to practice sprinting, lead out trains, solo attacks and all without the pressure of a real race. Riding like this will also hone your speed and is more fun that slogging out hundreds of miles.

Weight gain due to water retention
Most riders find that they've gained 3-4lb/ 2kg after a hard week of riding. They assume that they ate too much in the week. However, this is most likely to be due to water retention by damaged muscles rather than fat gain. It vanishes after a week.

Regardless, remember that high training load and fatigue will cause you to crave sugar and to want to overeat, so try to be sensible about your diet.

Training camp on a budget
- Get a group of buddies together. 15-20 works well. Similar fitness levels are best.
- Choose a week.
- Rent a couple of villas or stay in a hotel with all you can eat buffet. The second option is a little less sociable and means you're more likely to eat too much poor quality food.
- Rent a few mini vans to use as airport transport. You'll need big ones for all the bikes.
- Plan your rides.
- There's no need for a following car with someone to hand out gels and replace inner tubes. You are big boys and girls and can carry that stuff with you.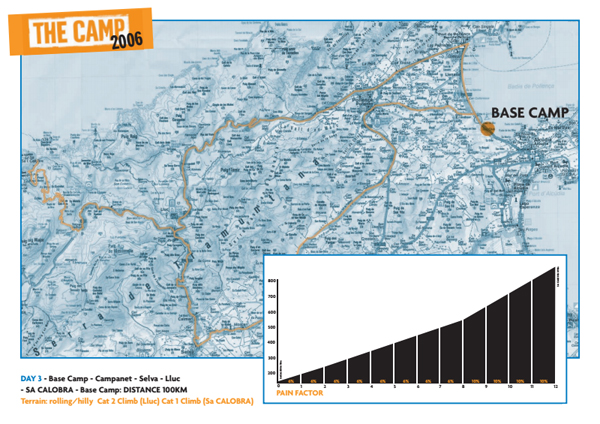 A bit more expensive
Book into a training facility. There's usually everything you need there for sport, such as a pool, physio treatment rooms, bike storage and maps of the area. They normally supply buffet food for breakfast and dinner. It works out to be more expensive than a DIY solution and you will probably be surrounded by skinny sportspeople so it is all a bit odd!

Expensive luxury version
Choose a guided camp. You'll get a following vehicle, cycling guides, someone to hand you gels and food when you're hitting the wall (or even a van to get into), someone to repair your bike and no worries about navigation. Hotels are usually very comfortable and nice. It does cost more, but if you can afford it, why not? You can concentrate on enjoying the scenery and ordering cappuccinos.

Best of all
Team organised training camp. This is all expenses paid. You get a guy on a scooter to give motor pacing when needed. Sometimes there's a following car with a loudspeaker and someone shouting at you in French. At dinner you are not allowed to eat from the buffet but have to eat the stuff the chef prepared for you. No desserts! You get a free suitcase of kit to take home afterwards. You do have to work hard on these camps.

In summary
Realize that for most riders the joy of a training camp is the chance to ride your bike in the sunshine with some mates. Some riders train FOR the training camp, as for many this is the biggest event of the year. If that's for you, then do it that way and enjoy yourself.

If you feel you've got more important racing goals then think carefully about what benefits a week like this could bring you in terms of race winning skills and speed. Riding 5 hours a day as a group smashfest won't help you in that regard.


Links
Cycling Escapes, riding in the Santa Monica mountains with a great group. Reasonably priced at around $400 for a week.

Charmichael Training camps. Expensive, at around $1700 for a week + lodgings + flights + transfers.

La Santa in Lanzarote. Popular with triathletes, windy barren landscapes.

The Parador Hotel in Tenerife used by Team Sky for sleep high train low effect and plentiful climbing.
Pollentia Club Resort Nice place, popular with German triathletes if you don't mind that sort of thing.

La Fuga. Set up and run by some nice people.

Alpe. Run by very nice chap Ross Muir.

Soigneur. Provide assisted riding in the Melbourne area. Speak to Dan.

Duvine. Expensive but high quality accommodation and food.