Frames

04/03 2014 by Pieter Van Pietersen




What are the most important characteristics of the frame? Size, material, weight, aerodynamics and price are discussed here. My recommendation? A stock carbon frame in the right size that you can afford to crash!


In this article I cover some basics regarding bicycle road frames, i.e. frames for bicycles road racing like the Tour de France, criteriums or sportives. This does not cover cyclocross or mountain bike frames.

The feel of the bike is dictated mainly by its frame. At first glance it may seem that the bike frame has not changed much in the last 100 years. However, huge amounts of engineering expertise and effort have refined the frame into a pinnacle of design. What are the subtleties which make one frame an uncomfortable bone shaker, and another a joy to ride?

Size
The most important factor when choosing a frame is getting the correct size. The typical mistake is to get one that is too big.

A smaller frame will be a little bit stiffer, a little bit lighter and most important of all it will give you more room for adjustment. You can always raise your saddle by 1 or 2cm or get a longer stem, but if the frame is too big you can't go smaller. Therefore you are better to err on the side of too small, and it will look more pro too.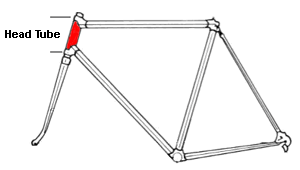 Some manufacturers also produce a 'Sportive' version of their road frames. Generally these will have a longer head tube, which will bring the bars higher. This makes the bike more comfortable if you have tight hamstrings and a large belly. That's the theory, however I found that raising the bars has the effect of throwing more weight onto the saddle, resulting in saddle sores and, actually for me, backache.

My advice is to do some stretching to get those hamstrings longer and buy a normal race frame. With your back much flatter, you end up suspended between the bars and saddle, which is more comfortable than riding around like a saluting Marine.

Material
Carbon
The main material now used for light road bikes is carbon fiber. There are different types of fiber and construction techniques which result in lighter, stiffer or more comfortable frames. For example, the 2014 Giant TCR Advanced SL carbon frame and forks, size L weighs +-1479g, but the Giant TC2 Carbon frame and forks weighs over 500g more. Both frames look quite racy and are carbon, but there's a big difference in weight (and of course, price).

Generally, the high modulus carbon is more expensive, but the road feel between the top and second models is tiny but the price tag is large.

Carbon layup - how the fibers are aligned during manufacture - is critical to how the frame rides. I used to think that layup discussions were just marketing, but having ridden similar frames with different layups, I can confirm that there can be a big difference in ride comfort and stiffness. This is a big difference between no brand China frames and big-brand frames.

Carbon frames are the lightest, most comfortable and most aerodynamic choice. They can be delicate, but can also be repaired for a nominal sum (say, $200 for a cracked top tube).

Tip from a carbon frame repairer: If you have a light (sub 1kg) carbon frame, don't put it on a turbo trainer. The stress is different to that of the road, and will eventually result in a cracked seat tube. This may or may not be covered by warranty.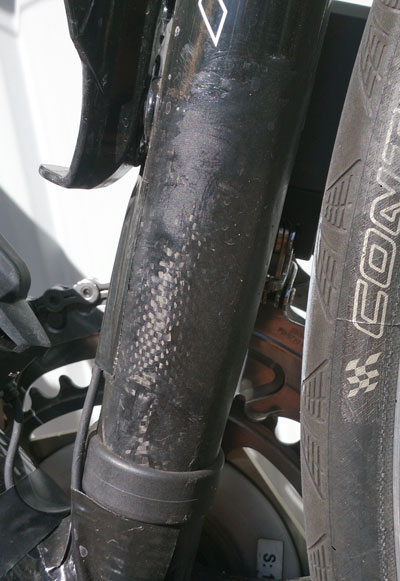 I recommend buying a stock carbon frame as your fast bike. There should be no need to get a custom frame, as you can adjust your position with stem and seat post. Don't spend the earth on your frame as it'll no doubt be replaced within 5 years. Unfortunately, racing bikes are expendable, like sneakers.

Aluminium is a popular material for road bikes. The alloys 6061 and 7005 are most popular due to its ease of welding. 6061 is regarded as slightly superior as can be formed into shapes more easily and can result in lighter frames.

Aluminium frames tend to be heavier than carbon frames. For example the 2014 Giant Defy 0 Aluminium Frame and Forks weigh 2090g which is almost a kilo heavier than the lightest carbon framesets (although that's also reflected in the price).

Aluminium also has a reputation for being harsh. I have ridden some Aluminium bikes from the early 2000s, and that can indeed be the case. Road vibration is tremendous, and becomes uncomfortable. However I have a Giant OCR from 2005 and it rides very comfortably. The only way to find out would be to go for a 30 minute ride on the frame, which not always easy to organize.

Early aluminium frames had thin walls and wide diameter tubes. This was because aluminium has lower density and strength compared to steel, but better strength-to-weight. The result was harsh riding frames. Due to improved manufacturing techniques and design, the frames are more comfortable.

Generally, I feel that modern aluminium frames have quite a dead feel - the frames seem to accelerate in a sluggish way, although bumps in the road get absorbed. The terrible road buzz has been engineered away.

For a first bike or a training/commuting bike, an aluminium frame is a great choice.

Titanium frames used to be popular around the late 90s, but have since been usurped by carbon. The thinking is that Ti frames are too flexible. They are usually slightly heavier than carbon frames (by only a few hundred grams). Carbon also has the advantage of being easier to mold into aerodynamic shapes.

On the plus side, Ti frames look beautiful and don't rust away, so will last you a long time.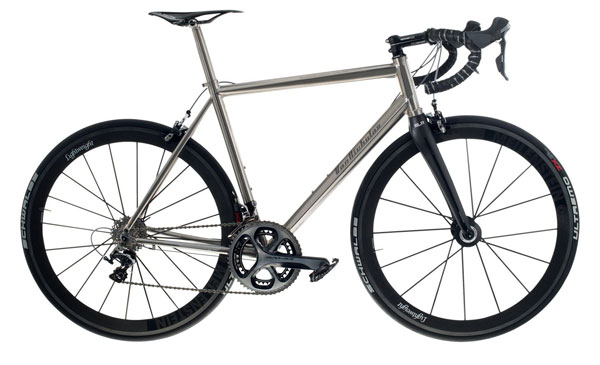 Scandium is a metal that is added to aluminium to form a strong alloy. Bike frames can be made lighter and with smaller diameter tubes compared with other aluminium alloys. The alloy is difficult to work with under heat, and so the frames are expensive. The frames typically weigh more than carbon but less than normal aluminium frames. Scandium was popular in the early 2000s but has since fallen out of favor as everyone wants carbon.

Steel tubes with lugs was the normal production technique until about the end of the 80s. Steel frames are heavy, with the lightest coming in at around 2kg. They rust, and are usually quite springy. With so many carbon frames around at great prices, I would avoid steel. Steel bikes just feel so darn sluggish.

Weight
The governing body of cycle sport, the UCI, imposes a weight limit of 15lb/ 6.8kg on bikes. The idea is to stop potentially dangerous over light parts being used. They also feel that lighter bikes are less stable to ride. It is certainly a disadvantage for light riders, but the rule doesn't look like it'll be relaxed any time soon.

The lightest frame and forks (size L) are currently just over 1kg. Here's a few of the lightest:

1141g Cannondale SuperSix Evo
1154g Scott Addict SL
1184g Focus Izalco Max 0.0
1190g STORCK Aernario
1246g Trek Madone 7.9 H1
1253g Cervelo R5 DA L
* Manufacturers - If you would like your frame to be added to the list, let me know

A Cannondale SuperSix Evo Black with Shimano Dura-Ace 9000, ENVE 3.4 Wheels and ENVE bars and stem comes in at 5.7kg (no pedals). List price is $15,000 Mar 2014.

The Scott Addict SL built with SRAM Red 22, Synchros RL1.0 wheels and a Fizik saddle + post comes in at 5.9kg (no pedals). List price is $11,000 Mar 2014.

Light and just about rideable builds exist at around the 4kg mark and the current record stands at 2.7kg.

The weight of the bike and frame is not that important. The difference between an exotic frame and a good frame is perhaps 300g, which is inconsequential, especially when compared to overall weight of rider and bike which could be 100kg.

On this site, it was found that an extra 4lb/ 1.8kg added to the bike cost made the rider 00.01.54 (2 mins) slower up Alpe D'Huez (Normal bike 49.40; heavy bike 51.34 with same wattage).

300g might add 20 seconds up this massive mountain, but would be barely measurable on a flat circuit.

Aerodynamics
With nowhere else to go with weight, manufacturers started to work on aerodynamics. Cervelo was one of the first with their Soloist. I am inclined to tell you that an aerodynamic frame won't make much difference. Whilst drafting in a race, or slogging round a Sportive course, it won't. If your legs are giving out and you are more worried about completing the distance, then it definitely won't.

However, with 90% of a rider's energy used to push air out of the way (at 50kph), it definitely does make a difference if you are in the wind and going for a win.

For example. At 45kph, a rider on the Specialized Tarmac has to produce 12.5W more compared to a rider on a Venge. The differences are even larger at 70kph, since power is cubed as velocity increases.

In the 2011 World Championships, Mark Cavendish, riding a Venge, beat Matt Goss, riding a Tarmac, by half a wheel. Other factors would have been at play, such as Mark's small frontal area and of course his power output, but the frame choice would have contributed to his win.

On the other hand, Bradley Wiggins and Chris Froome both won the Tour de France whilst riding a non aero Pinarello.

If you are buying a bike for racing, then you should consider an aerodynamic frame.

The major manufacturers have produced aero frames. Such frames sit at the top of the range and are expensive. Some examples are:
Cervelo S5
Giant Propel
Merida Reacto EVO
Scott Foil
Specialized Venge
Canyon Aeroad

Price
Remember a couple of things. At the end of the day, your legs will have to power this thing and after 3-4 years it'll either be broken from a crash or you'll be wanting to replace it as it'll be a bit scratched.

If you have a bit of a stomach (be honest), then there isn't much point saving 500g on your bike. Buy yourself a new bike when you've lost the gut - that's an incentive.

You may have just been paid a big bonus and feel like rewarding yourself. And why not? If you can afford it, then enjoy riding a beautiful machine. Otherwise, spend a little less, and get a solid performer that you can race hard.

I am inclined to write a note on custom frames. In my mind there is no need at all to buy a custom frame unless you really want to throw money away. You will be able to replicate any riding position on a stock frame with the correct stem, seat post and bars.

On top of that, they will be heavier and perform worse than a stock carbon model, as they are constructed with separate tubes attached to lugs, as opposed to being molded in one piece. Perhaps you just like the idea of the 'bespoke' service you get when ordering such a frame? If you have a lot of cash then great, go for it, otherwise please don't bother.

$2000 will get you a fantastic racing frame. It'll be less on sale. $5000 will get you something exotic.

China Copy frames
Some cheap frame deals can be obtained here from China. There's the famous Chinerello. Suppliers such as Great Keen and HongFu Sports can produce a frame and forks, including shipping for around $600.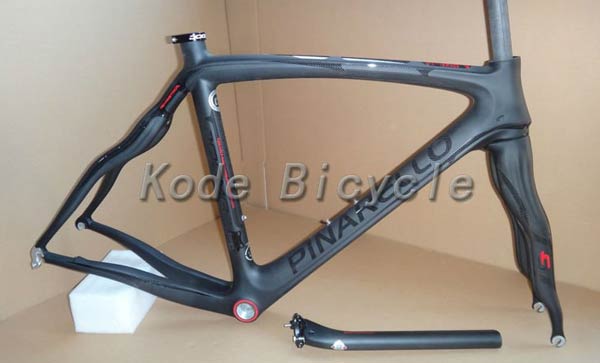 On the one hand, these bikes represent incredible value, and have great paint jobs. I've seen quite a few being ridden, and they've lasted perfectly well.

On the other hand, these factories can be in breach of copyright. Someone has done all the wind tunnel testing and marketing, is paying for a world tour team, and then they just get copied.

I've also seen problems with missing holes for cables, seat posts that won't tighten, lumps of epoxy in the bottom bracket and delivery delays of months.

Safety is also a concern as quality control is unknown. These frames can fail. To have a nagging doubt at the back of your mind about the integrity of your fork, whilst descending a mountain, is enough to make you pay extra for the real thing.

Please support the bonafide builders.

Conclusion
My natural instinct is to say that all carbon frames are the same, just in a different color. But actually, there is a difference. The low end frames feel sluggish when accelerating and climbing. The best frames seem to leap ahead as you pump 1000W into the pedals!

Of course some of it may be down to perception, and it is difficult to ride blindfolded to really test that out. Since the mind has such a big effect on performance, if you buy a bike you love then you probably will go faster and at least will be more likely to ride it, which is the point.


Links
Bike!: A Tribute to the World's Greatest Cycling Designers
A link to Amazon.com to this beautiful bike book. I got this as a birthday present, and really enjoyed flicking through it.
The Custom Road Bike
Nice book written by a good bloke, Guy Andrews.