Chains

04/30 2014 by Pieter Van Pietersen




A chain pulls 2-4% of your available power. Which chain takes the least? Which chain lasts the longest?

Choosing the best chain will save you money and make you faster.


A good chain needs to satisfy a few criteria:
- Efficient running
- Good shifting
- Low weight
- Long life
- Reasonable price

Chain Efficiency
At a power of 250W, which equates to riding at about 22mph/ 35kph a well lubricated and maintained chain pulls about 7W. This can rise to over 10W if the chain is incorrectly lubed, dirty and worn. That's over 1% of your available power. See here for our tips on how to clean and lubricate your chain.

It is important to remove the packing lubrication when installing a new chain, as this is inferior to the correct lubrication. New chains become more efficient after a couple hundred miles as the surfaces have time to mate and polish each other, so don't use a brand new chain for your big race.

Chains are more efficient the harder you pedal. At 50W, chains are 91-93% efficient. At 400W this rises to 97-98% efficient.

The most efficient chain, as tested by Friction Facts was the Shimano Dura-Ace 7901, although the difference between the best and worst chains was only 0.6W when they were all correctly lubricated.

Belt drives are currently less efficient than traditional chains when installed per the manufacturer's recommendations, which involve preloading the belt to 85lb to stop slippage. If no preload is applied, the belt becomes more efficient after about 200W. For now it is better to run with a traditional chain for racing needs. Of course, belt drives are light, require little maintenance and no lubrication so are perfect for commuting bikes.

Good shifting
For a racing scenario, good shifting is vital. As you exit the final bend, you won't have time to deal with a hesitant chain. That fumbled shift will cost you a bike length and the race.

The most important contribution the chain can make is to be clean, well lubricated and not worn. Even a slightly dirty chain will shift much more slowly than a clean one, so ensure you keep your chain spotless. A worn chain can skip over cogs, so measure your chain wear and replace the chain when needed.

Low weight
Most 10 or 11 speed chains are around 240-270g, so weight is not a defining feature between manufacturers. 11 speed chains are slightly narrower - 5.45mm compared to 5.9mm, so are lighter. An 11 speed Record chain is 14g lighter than a 10 speed Record chain. Nothing to write home about.

Long Life
The chain's life will be greatly determined by how clean it is kept. A clean and well lubricated chain will last two to three times longer than a neglected chain.

Worn sprockets also contribute to chain wear, as more pressure is applied to each link rather than the load being distributed over several links.

Of course, harder pedaling will also contribute to more chain wear.

A will maintained chain will last 5000 - 8000km before hitting wear limits. You should typically go through 3-4 chains per year if riding 10-15 hours per week.

The brand of chain does also contribute to chain life. Tour magazine tests show that the best wearing chain was the Dura-Ace 7901 chain. This had an eighth of the wear of the SRAM PC 1051 after 2800km of laboratory testing.

Reasonable Price
Most quality chains are quite reasonably priced at around $60. Better prices can usually be found in online sales. Notably, Campagnolo recommends using a special tool to join their chains. This tool is expensive. Instead, I recommend buying a masterlink from Wipperman, KMC or SRAM which makes maintenance easier.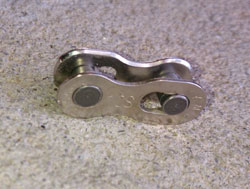 Table of Chains
| Manufacturer | Model | RRP | Web Price | Weight | Durability |
| --- | --- | --- | --- | --- | --- |
| BBB | BCH 102 L | $55 | | 267g | Good (Note-the BCH103 wears badly) |
| Campgnolo | Chorus 11 | $61 | | 250g | V Good |
| Campgnolo | Veloce 10 | $45 | | 266g | V Good |
| Campgnolo | Record 11 | $72 | $65 here. | 238g | V Good |
| KMC | X10 SL | $77 | | 244g | not great |
| KMC | Gold | $61 | | 241g | not great |
| Shimano | Dura-Ace 7901 | $57 | $46 here or $40.23 here | 259g | The Best |
| Shimano | 105 5701 | $36 | | 269g | Excellent |
| Shimano | Ultegra 6701 | $41 | | 266g | Excellent |
| SRAM | PC1090 R | $78 | | 248g | not great |
| SRAM | PC1051 | $41 | | 265g | Bad |
| Wipperman | Connex 10 S1 | $87 | | 267g | Good (Note-Connex 10S0 is bad) |


Recommended chains:
For those running Shimano or SRAM, the best chain is the Dura-Ace 7901 (or 9000 for 11 speed). It is reasonably priced, has the highest durability, best efficient, excellent shifting and quiet running.

If you are running SRAM then it is worth using Shimano cassettes too, as they are compatible, wear and shift better.

Campagnolo users are best served with Campagnolo chains which are relatively expensive, but long lasting. Interestingly, the Chorus 11 is about twice as durable than the Record 11 chain.


Links