Aero Wheels

01/01 2014 by Pieter Van Pietersen




When you first start cycling you get yourself a bike. It is lighter than anything you've ridden before and feels great and you're very happy. After a while you begin to notice that everyone's got deep section carbon fiber wheels. You begin to want them. Are they really worth the expense?




They have them in the Tour de France. They have them in the Tour of California. You are surrounded by them at Sportives, fun rides, in races, at the coffee shop.

They look great, they sound great and they are expensive. You check wind tunnel data and find that they save you 30 Watts at 50kph.

Wanting now turns into need. You begin to plot a way to convince the other half that a couple of bike wheels is worth the price of a second hand car.

Is it really worth it?
The short answer is no, of course it isn't!
With trembling hands you tear open the box, fit the wheels to your bike and go for a spin. Unless your old wheels were knackered and very heavy, it won't feel any different. It won't stop you from getting dropped at the local fast ride. You won't suddenly become a demon sprinter or angel climber. Like all upgrades it is very disappointing to have it rammed home that it is down to the legs. This is a lesson you will have to learn again and again in cycling. You are the engine.

However, there's a little more to it than that. Let's take a closer look.

Aerodynamics
Air resistance uses up about 90% of a rider's energy. Aero wheels aim to reduce air resistance, so with a certain power output you will go faster.

A fast rider might be generating 350W to ride at 50kph.

If we look at the Roues Artisanales web page (2008 testing), we can see that the fastest front wheel, the Zipp 808 absorbs about 17W whereas the slowest, the Mavic R-Sys absorbs about 35W.

That's an 18W difference, or 5%. That's a reasonable saving, but that's at 50kph. At slower speeds the aerodynamic benefit will be reduced, so you will save less than 10W, which isn't worth really worrying about. However, as the slower rider will be on the course longer, more overall time would be saved than with the faster rider. (It still isn't worth worrying about.)

This is the case between the best and worst extremes.

What about a mid range wheel like the Shimano RS80 Ultegra wheel ($500 for two wheels) compared to a standard 50mm deep section wheel like the Mavic Cosmic Carbone? (~$1000 for two wheels)

The RS80 absorbs about 24W whereas the Cosmic absorbs about 22W.
That's a 2W saving at 50kph. At 30kph it'll be negligible.

Once you factor in weight, braking, cost then you will find that the R80 will most likely get you from A to B more quickly, cheaply and comfortably.

New wide section
Many of the latest wheels from 2012 onwards have been designed with wider rim profiles. These reduce drag when there is a side wind.

The gains are minimal, although stability of the wheel in gusts of wind is improved.
Renowned wheel designer Paul Lew still recommends the narrower rim profile.

Even with 65mm deep wheels, I have never had an issue with controlling a bike in windy weather. I can only assume this is a scare tactic perpetuated by marketing departments to sell more wide section wheels and is a way of differentiating them from other deep section wheels.

Braking
Carbon wheels can come with aluminium rims, disk brakes or carbon rims.

The aluminium rims offer great performance in the wet and you don't need to swap your brake pads to be carbon specific. The downside is that such wheels (e.g. alu rim with carbon fairing) are heavy. They will accelerate poorly and feel sluggish on the hills.

The disk brakes are a new development, yet to be approved by the UCI (end 2013). Although they offer a good solution for braking while reducing the inertia of the rims, they double the aerodynamic drag of a wheel. In that case, I suggest avoiding them on road bikes.

Carbon rims
The lightest wheels have carbon rims. The quality of braking has improved in recent years (since 2010). Vibration, poor braking in the wet and rapid wear have been solved by the best manufacturers.

With carbon rims, you do need to swap brake pads for carbon specific versions. This is a pain if you train on your race bike. The solution is to buy a training bike so you won't need to do this anymore.

Durability
In my experience, carbon wheels tend to be less durable than aluminium wheels.

First of all, the brake track tends to wear through. When this becomes bumpy, braking will vibrate and the wheel is essentially useless. It doesn't seem possible to repair, either. (I tried sending a wheel to a well-known carbon repair shop, but the rims were still juddering afterwards).

Secondly, and more seriously, carbon wheel have a habit of smashing when hitting potholes. I've seen plenty of wheels broken this way. Lightweight appear to be prone to this, although my evidence is anecdotal - I've seen it 3 or 4 times with different riders. I saw one guy break front and back on the same pothole.

If you puncture while riding a carbon clincher, then the rim can often become ruined immediately. Be sure to stop ASAP if you puncture a carbon clincher. If you ride on the bare rim it will be damaged.

Inertia
The light carbon wheels compare well to all wheels. A good quality carbon wheel set will weigh about 1400g; the DuraAce C24 is just under that, listed as 1395g.

Heavy Carbon Wheel: Mavic Cosmic Carbone 1800g
Lightweight Wheels: 900g
Zipp 404: 1500g

You will feel the difference between a 1900g and 1300g wheelset. You can actually feel the greater gyroscopic forces if you swap out a heavier wheel. Accelerations feel more sluggish.



Wheel stiffness
Wheel stiffness is usually judged as lateral stiffness by hearing if the rim rubs on brake blocks when out of the saddle. Obviously this is an undesirable trait.

A stiff rim can actually be misinterpreted as a floppy rim. Wheel stiffness, is a product of spoke tension and rim stiffness. A stiff rim with low spoke tension will rub on the brakes as the force on the road will translate directly to the opposite side.

I've not found major problems with wheel stiffness. Regardless, I tend to set my brakes quite wide apart to cater for this eventuality.

Ceramic bearings
I have wheels with Chris King ceramic bearings and they certainly spin well when held up in my garage. The blurb says that the ceramic balls are more spherical than steel balls which will reduce friction. They are also harder, so any dust will be ground down and ejected before it wears anything out.

However, the HED website says this:
http://www.hedwheels.com/hed-wheels-faq.asp
"Up until 2011 some of our wheels came as standard with ceramic bearings. In theory these should offer lower rolling resistance than standard stainless bearings. However, with use in punishing conditions we were finding that the ceramic bearings were actually more susceptible to becoming contaminated. Consequently these bearings were going 'rough' far quicker than the stainless variety. When new our ceramic bearings did offer very low rolling resistance but in use we found that this didn't remain the case. Our high grade stainless bearings that are now available in our wheels actually offer lower rolling resistance for a longer period of time when compared to the ceramic variation due to their harder wearing nature."

Tubular tires
It is very tempting to purchase rims which take tubular tires (tubs, the glue-on type as used by Pro riders). Tubular rims do not need a lip to hold the tire, so are about 100g lighter than clincher rims.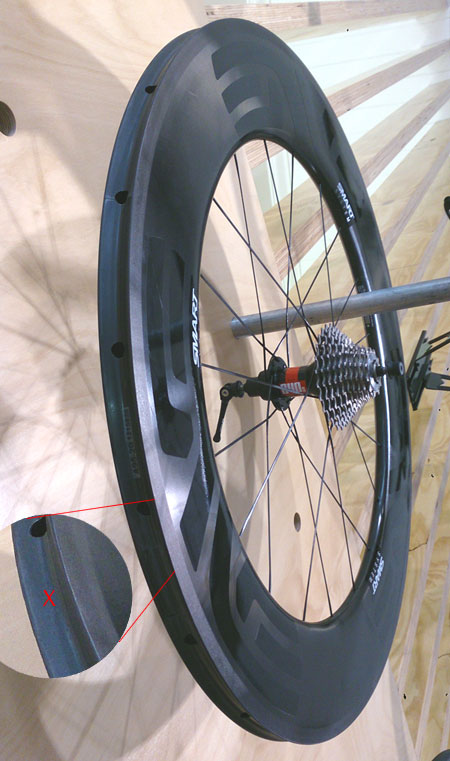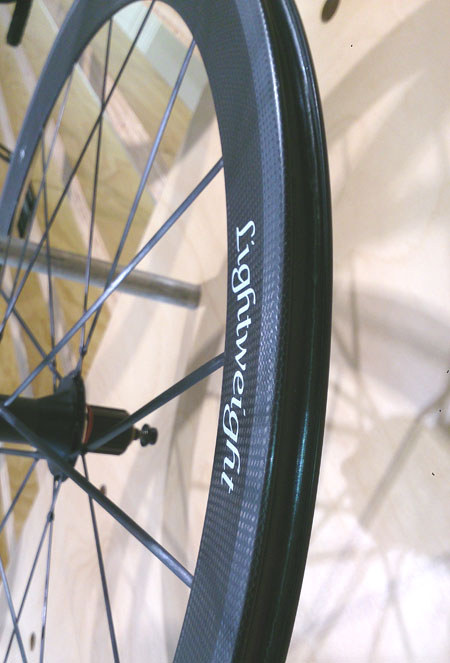 In my opinion, there's very little difference in ride quality between tubs and clinchers. Actually the ride quality is usually worse as the tire pressure is often set to around 9 or 10bar (130-140psi) in order to get low rolling resistance. This is uncomfortable on less than smooth roads.

When you add in the cost of a puncture (a new tyre, $100) and the hassle of gluing them (cover your kitchen and clothes in glue), it just isn't worth it.

I could just about justify it for your best race wheels which almost never get used, such as a disk or time trial/ triathlon wheels.

Psychological
If you put on your race wheels you will at least feel fast. You won't sound fast to yourself as you can never hear your own wheels.

Additionally if you have the best equipment, then you can't blame the bike for a poor performance. The performance rests with you.

How does these wheels feel in the real world?

When time trialling
Aero wheels will make a difference. I have no doubt about this. If you are into time trials or triathlons, then just buy yourself the speed. I have read that a deep section front and disc rear will save about 90 seconds over a 40km time trial. I believe it.

Note also that the time gains for slower riders are actually greater than for faster riders. The reason is that while faster riders make bigger Wattage savings, they are on the course for less time.

The slower riders have a smaller Wattage saving but over a longer period of time, so same more time overall.

Whilst climbing
You are better off with the lightest wheels you can get for long climbs as weight is more important than aerodynamics. Cervelo try to convince us that aerodynamics won out until 5% gradients, but they were taking best case scenario numbers. For example, who climbs mountains in the drops?

Aero wheels won't be much use in the mountains where you are riding at less that 20kph.

Carbon braking surfaces can overheat if you are a nervous descender. Rim material can blister, delamination can occur and tires can burst.

When in a bunch
There are supposedly gains from aerodynamic equipment whilst riding in a bunch. However they are minimal.
What's more important is the ability to speed up quickly. Heavy wheels don't help in this regard.

During a sprint finish
At maximal power you might be able to put out over 1000W. Thor Hushovd can supposedly put out 1700W, Cavendish about 1400W. Top speed might be 40mph/ 65kph.

The 15W saved by your aero front wheel isn't going to make that much difference, especially if the finish is uphill.

Pro riders are looking for every advantage they can get, no matter how small. Equipment is given to them for free. The aim of the manufacturers is to convince the cycling public to buy their products, so think before buying.

I have seen a great many races where the winner is using standard box section rims.

When parked outside the coffee shop
OK the wheels look good there in the sun. Why not treat yourself? It is cheaper than buying a new car.
If you delight in buying beautiful equipment then why not enjoy the best there is?

Conclusion
If money is no object, buy aerodynamic wheels. They look great and do give aerodynamic advantages.

If time trialing or doing triathlon, then get them. Again, they give genuine advantage when riding alone and flat out.

If road racing, I advise not buying them. You are more likely to crash in a road race, so equipment should be replaceable without breaking the bank. The aero benefits in a bunch are minimal. In a sprint you'll be generating so much power that an aero wheel won't make a significant difference.

If riding Sportives, stick with trusty aluminium box section rims. Carbon aero isn't worth the expense.

You will of course ignore my advice and buy them anyway!



A 'real world' comparison of the Shimano Dura-Ace C24
to the HED Jet 6 clinchers
.

I decided to compare two sets of wheels. The reasonably priced Shimano C24, which is a box rimmed rim and the deep section HED Jet 6.

The HED Jet 6 clinchers are used by Tony Martin, who must be happy with the drag numbers on these wheels.

Mass:

C24 clincher: 1480g

HED Jet 6 clincher: 1900g

The test

Early morning runs in the local park on a flat stretch of road about .6mi/ 1km long.

For each wheel:

15 mins at steady speed (28mph/45kph one way, 22mph/35kph the other).

15 mins at steady power (280W).

Results

Which wheel required more power to maintain a steady speed?

The HEDs required 2% less power, but the accuracy of the powermeter is within 2% and the speed and wind wasn't uniform, so no real difference.

Which wheel was fastest at 280W?

The wheels yielded identical average speeds at 280W.

Which wheels feel more lively and responsive?

The C24s by a long way. The HEDs felt sluggish to get up to speed due to their extra weight.

Conclusion

In the lab, one wheel is faster than another. Yes, good aerodynamics do save you energy or time. Just ask engineers at Indy car racing. In the real world you need to factor in swirling wind, accelerations, hills, group riding, sprinting, rain and the exhausted human engine. When you add all that up, you find that different wheels only make very little difference.

If you are riding at Elite level, or in a long time trial (triathlon), then wheel choice will help. For everyone else, buy one reasonable set and spend the savings on your family.



Pieter's Wheel recommendations
For training and racing
The Shimano C24 Dura-Ace. At 1,420g, it is light enough to race. The hubs last well, the wheel is durable and almost as aerodynamic as the heavier C35 and C50 wheels. Don't use tubular wheels for training as it will cost you too much in time and tires.

For Time Trialling
A deep section front wheel like the Zipp 808 and a Lightweight AutoBahn Disk (from the German Lightweight brand). Lightweight disks are often rebadged. It only weighs 780g so is the lightest disk out there. Tubulars are the way to go as you won't do many miles on your TT wheels.

For Undulating or flat courses
The pros have to ride what they are provided with, but the favorite is the Lightweight Meilenstein wheels - either clincher or tubular. Vincenzo Nibali swaps tubulars and clinchers, sometimes riding with a clincher at the back and tubular at the front.
Zipp wheels are excellent, either the 404 Firecrest (1,465g pair) or the deep 808 (1,630g pair). ENVE is another top brand. The ENVE SES 3.4 seems to do it all (1,467g clincher) , although the SES 6.5 (1,550g clincher) is also a favorite.

For most riders, clinchers are a better choice for the sheer convenience factor.

For climbing
Again, Lightweight Gipfelstrum (1025g tubular) seem to trump the rest. Zipp 303 or ENVE SES 3.4 are a good choice.

If you are obsessing about weight, then tubulars are the way to go for your climbing wheels, but ensure that your tires are glued on properly for the descents.


Links
The very useful Roues Artisanales wheel test page.

Interesting and detailed information about wheel stiffness.

The awesome Enve SES 3.4 Clincher Wheelset with DT 240 Shimano Hub
. Link to Amazon.

Shimano Dura-Ace WH-9000 C24 Road Wheelset
Love these wheels.

HED Jet 6 FR Carbon Road Wheelset - Clincher One Color, Campagnolo
. HED make awesome wheels.